You are here
Valentine Reds are Hot!!
Red is such a great color for the holidays! We have a few items this year that you can ring in the holidays wearing. Starting with Our RICO Button wrap as shown with the patchwork of stitches, can be worn as a poncho, a wrap or a scarf.  It comes in Scarlet Red or Winter White, & is an easy gift as One size Fits All !!
RICO Scarlett Patchwork Stitch Poncho Solid (STL25)
We take you on our continued journey of the Bernardo Winery, with Paulina (jewelry aritsan, see her baubles and beads featured now on our website), of Luna Llena Jewelry. Paulina Luv's our Reds! 
Rico knit cotton/ acrylic Melange of pointelle patchwork of stitches wrap stole, with several wooden buttons, gives you many options to be able to close it and wear as a poncho. 
Our versatile wrap poncho can be worn with the points to the side, asymetrically, or with the buttons to the front, making it look like an asymetric jacket.. 
Or open it up and wear it wrapped around your shoulders. You can bundle it around your neck as a perfect scarf in this chilly season!!! It has a very dramatic fashion look. Our web maestro wears it and gets stopped Every time!! "Where did you get your poncho!!' She tells them of course: "it's on my friends E boutique!!  Rico Life Style. com"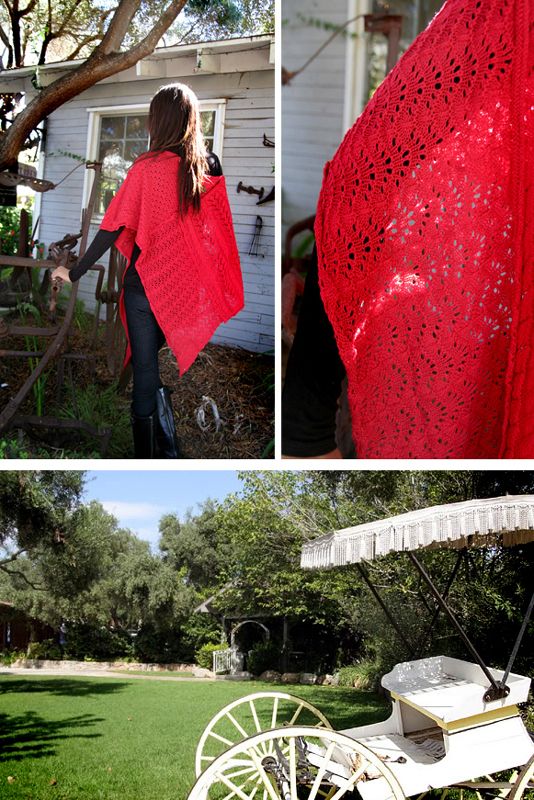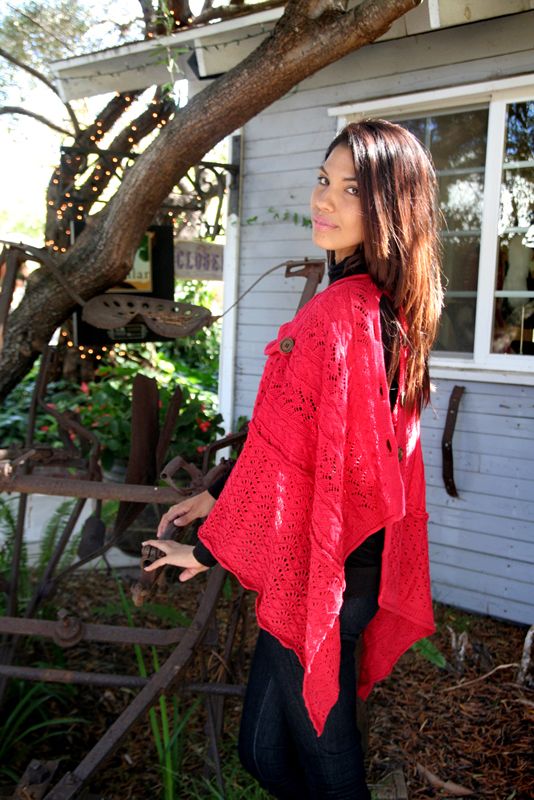 Looking for that special jewelry piece that lasts through the test of time! This is it.. Paulina's bronzed chain with wings of time charm will be a lasting memory for some special gal. Most of Paulina's designs are one of a kind, as is this one.
You Won't Believe how reasonable her jewerly pieces are. Can you really pass them up?? Check our new Jewerly section. 
Here Paulina is modeling her necklace and our corinne coury poly rayon pocket T. This T comes in light grey, black, white and bronze.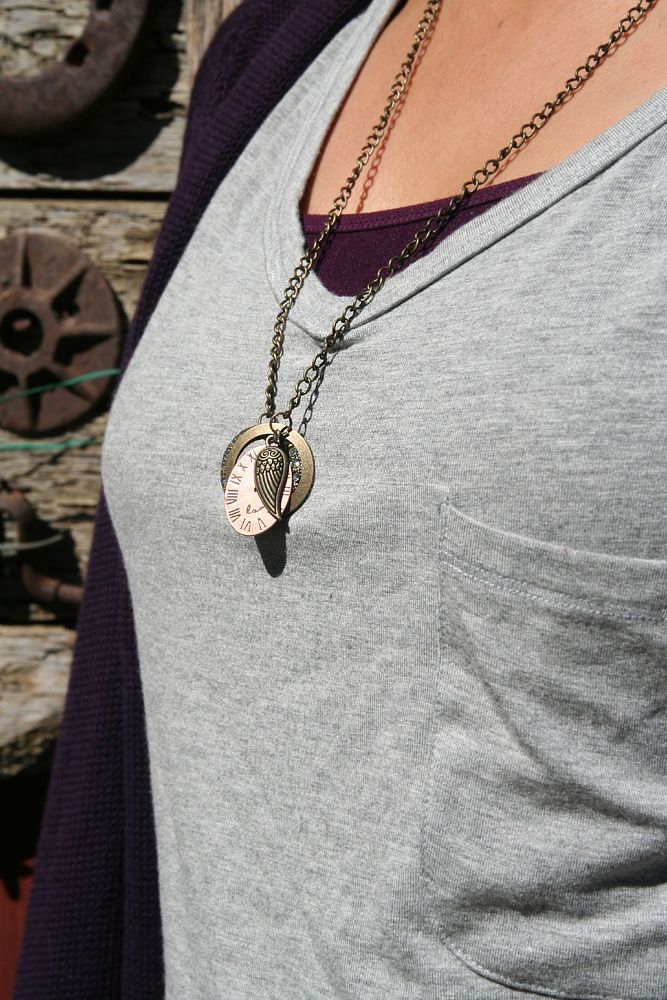 Tube scarves make the perfect gift, another One Size Fits ALL!  
RICO 
Convertible Cowl neck Tube Scarf
  (RSC07) is pictured in Fire Red, & is so convenient for keeping your neck cuddled and makes a great accent accessory. Our exclusive design, our tube scarf is made of 100% cotton& is  hand knit ted. As a cowl neck scarf, it can be worn draped down as a traditional cowl neck, or can be spread out over the shoulders to give a collar affect. It can be brought up onto the head to be a head scarf, neck warmer, and can drape the cowl to the back and make a turtle neck affect in front. So versatile, also available in Black, Blue jean, Bark, & Chili pepper, and dark brown Taupe.  
We only have One Red scarf left.. so grab it quick!!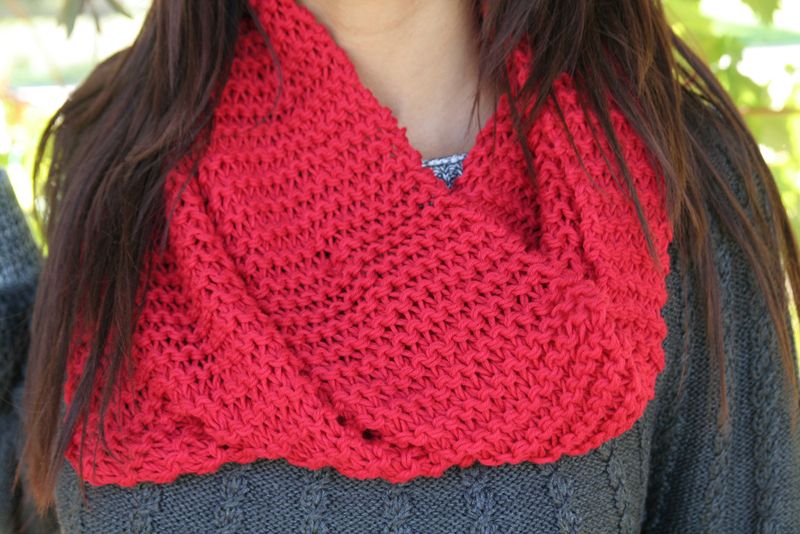 Ok, this one is NOT red, but it's a great look at a holiday party. It takes the chill off at an inside event and is as lacey as a snowflake!
Below is one of our white triangle scarves with crochet detail. This is the perfect accessory to keep around. It can be worn as an accent wrap or neck scarf any time of year. When you may just need a tad bit of coverage from a chill. Combining Crochet with Knit is a signature Rico design.  Available in White and Ultra Violet purple.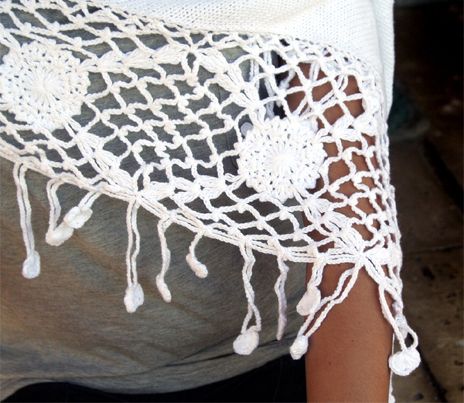 And while we're on the White subject.. who can resist Luna Llena's one of a kind Feather Necklace. 
The purest of pure white on a silver chain, is Beautiful on Reds!! and Of course is Most chique worns with 
a Black and White outfit or Imagine wearing all white and this loverly silver chain with feathers softening the 
deepest plunging neckline. See our Jewerly section for more details on Luna Llena Jewerly, made by our local 
San Diego Artisan, Paulina .
We wish you all a Wonderful and Merry Christmas, Happy Hanukah and the Best New Year Ever!!!