You are here
Rico Red is Truly......
RED!! Have you ever noticed that when you wear Red you get more compliments? If you have never worn red, do the test!!
Red  is a Happy color, in fact it symbolizes Happiness, Joy, Good Luck and Fire ! 
In politics it symbolizes the GOP & Communism, now that's a contradiction!!
Red attracts: Men, bulls, (they're the same thing aren't they? hahaha). & curiosity.. have you ever passed by something Red and it catches your eye.? How about spotting a Lady bug on a leaf or one that flies right at you. You can't help but be curious to watch that little red bug slowly walk around and suddenly flit off. I was always told that to find a ladybug, or have one fly on you is Good Luck.. is it the Red or the  bug giving us hope and possibilities and feeling in just that moment that a little bit of magic is happening?
Think of Rubies, Dorothy's sparkling slippers in the Wizard of Oz, Marilyn and Scarlet Jo lips, it's lucsious, its Rich and it Dazzles!! 
Rico Life style is offering for a limited time and on a limited selection, a few styles with Red line prices on our Truly red Reds!! Take a look at our Valentine's feature.  Check out our wrap/ poncho/ cape here in this patchwork of pointelle stitching reminding us of the beautiful craft of hand knitting. A perfect accessory to any outfit and can also be worn as a neck scarf. !!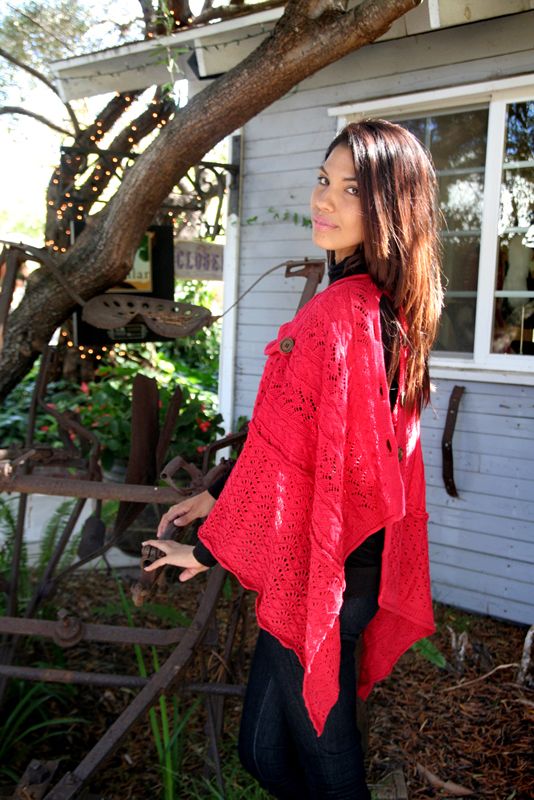 Or cozy up in our slit neck pullover
Accompany your red toppers with white: 
Wrap our Rico hand croceht tipped scarf over your red outfit and channel purity over fire!!! and be sure to wear true red lipstick to put the finish on the lovely package you are. Channel angels with our white Luna Llena feather necklace to wear on your red sweater, blouse or dress. 
And don't forget to count the compliments you'll get for wearing Happy Good Lucky Red!!